2018-12-02 (Sun)
On the last Friday in November the 30th, we had
the Sinterklaas party
which was one of our most important events of all.
More than 20 members got together and everyone brought such a delicious dish and a present.
We were so excited to chat about fantastic dishes such as who cooked & how to do even before the party actually started.
After greeting briefly, we immediately moved on to the activity.
Y san ,who organised the activity and prepared several games on her own,explained how to start games. We were divided into 2 teams and fought each other to get points and eventually someone who got the most points was a winner!
First , we played
Shiritori
which is a word game in Japan- one player has to say a word starting with the last syllable of the word given by the previous player.
Even for people whose mother tongue is Japanese, it is very difficult to get a word instantly but Dutch or other languages speaking members could get a word so quickly!
How amazing they were!!
Next,we played
Dengon game
which is called Chinese whispers- a message is distorted by being passed around a whisper. Y san whispered a message in the first person ' s ear and the last person got a completely different message and that made us laugh!
Finally, we played
a red beans counting game
by using chopsticks and counting in Japanese/ English/ Dutch.Surprisingly,almost everyone could use chopsticks without any difficulties because we are used to using chopsticks nowadays not only Asian nations.
The picture above: Congrats on your victory,R san , today's winner
The picture below: J san is trying to pick up red beans by using chopsticks.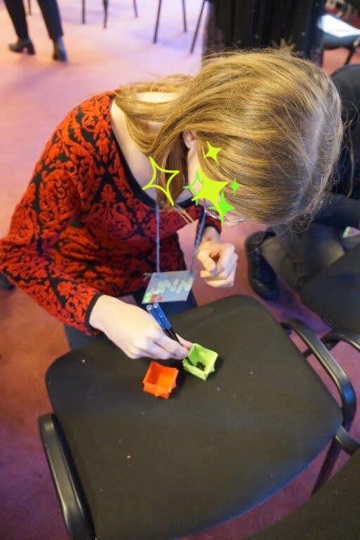 Not only preparing games, Y san did crosswords & quiz sheets for each member.
We really entirely enjoyed the activity she organised.
Thank you very much for her cooperation!
Then , it was time for
present exchange and poem reading!
Everyone tried to make nice wrapping , brilliant handcrafts , pretty cards and poems. They were all very impressive indeed.
This is one of those fantastic poems.
The poem might have been written by a Dutch member!
The handwriting and the poem itself are absolutely gorgeous!
Sinterklaas-style teapot!
And R san the winner ' s masterpiece Futomaki sushi!
What is inside?
The week before on Friday, the handcraft team held
a greeting card session
and some members wrought poems on the cards which they made then. How lovely!
After the amazing present exchange, it was finally time for food and conversations!
We couldn't wait for having the delicious dishes!
These lovely cakes were from JV san.
In the Netherlands, there is nothing unusual at all if men cook..even so some cakes were baked by the gentlemen and it was still astonishing for Japanese ladies!
No need to say,all cakes and desserts made by ladies were also so tasty!
Delicious matcha cake!
Have a look at the beautiful handwriting above!
We asked members to write down its ingredients because some people are allergic to certain foodstuffs or their beliefs.
Sinterklaas Party 2018 was successfully finished because of the delicious dishes which you prepared and also your continued support.
We the JWC members rarely have chances to exchange presents or reading poems even in the Netherlands, however could manage to enjoy the typical Dutch event a ' Sinterklaas' party'while speaking in Japanese!
Thank you very much for all members and supporters who gave us this wonderful opportunity.
Sinterklaas day in the Netherlands is on the 5th December.
Prettig Sinterklaasfeest!
Next Nihongo-kaiwa will be on the 7th December, the last Friday session in 2018.
Nihongo-kaiwa special event in Amstelveen Library will be on the 9th December
13:30〜15:00

If you are interested , please contact us by e-mail
jwcnihongokaiwa ☆gmail.com (please change ☆ to @)
HK
にほんブログ村